INTRODUCING:
THE PORTA-PIT JOB SITE MATERIALS WASHOUT BIN
What makes The Porta-Pit unique?
Durability

– Porta-Pit is made of a revolutionary cross link polyethylene that's five times stronger than ordinary polypropylene plastic.

Security

– A uniquely designed locking lid prevents water from escaping during transport

Light weight

–Porta-Pit weighs approx. 150 pounds empty and can be moved by hand.

High capacity

–It comes in three sizes; the largest holds approximately 2 cubic yards.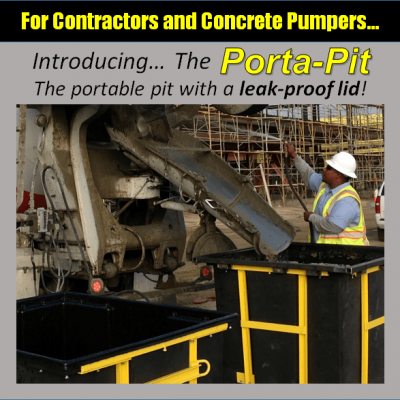 Small footprint

– The 1.5-yard Porta-Pit is about the size of a pallet at 44 x 42 inches, and is 40 inches tall. The ¾-yard Porta-Pit is designed to slide under pumps and pump trucks and is only 12 inches high. The smallest Porta-Pit, with a capacity of 1/2 yard, is for small rock pumps.

Stackable

– Porta-Pits may be nested or stacked for easy storage..

Dual usage

– For users who prefer dry materials, Porta-Pit has a removable plug in the lid to facilitate evaporation. Dried materials are then easily dumped.

Pumper's Friend

– For use when priming or washing out pumps, Porta-Pit has a removable 10 inch lid to allow the hose inside the closed bin to prevent the contents from escaping or splattering.

No lubricants required

– Concrete will not adhere to the plastic used in Porta-Pit.
Call

(626) 247-8766

for more

Porta-Pit

information or click below.